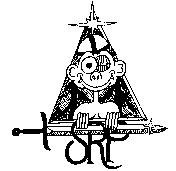 SRP Archives
Welcome to the SRP archives! First, I must apologize for the mix of languages present. Most of the new stuff, including these general information bits, is in English. However, this is an archive of old stuff, which happens to be in Finnish. So, once you delve deep enough, you'll notice the language changing. A small finnish flag like this

next to the link should warn you of this.
What is SRP?
SRP stands for Suomen Roolipeliyhdistys, the Finnish Roleplayers' Association. The acronym is a bit cryptic due to historic reasons.
SRP has its roots in mid-80's, we held a lot of meetings, but nothing really came of it. The real boost happened in late 1989, when we started organizing small happenings and most importantly, publishing our almost-quarterly newletter, Riimukiwi (Runestone).
I was with SRP since the very beginning. I worked as the secretary for one year and as the president for three years after that. In 1993, if I recall correctly, I stepped down. I'd rather not comment on what happened after that...
Apart from publishing Riimukiwi, SRP was noteworthy in some other respects too. We were one the earliest truly national organizations and we were entirely self-funded. Certain other organizations relied on state and municipal subsidies to work, while we collected every single penny as membership fees. Consequently, when the depression hit and state cutbacks came, SRP was financially fairly well off. This, however, could not offset the lack of activism - my fault, perhaps.
My personal opinion is that today SRP is defunct, but some people might disagree.
Riimukiwi
We were supposed to publish Riimukiwi quarterly, but the schedule always strecthed a bit... during the active years, we put out a total of 19 issues and two specials.
Riimukiwi was actually somewhat advanced, especially for an essentially zero-budget publication: It was done entirely on a computer DTP when "real" magazines still widely employed "cut'n'paste" layout.
After the first few issues, the magazine stabilized as roughly 36 pages, A5 -sized (booklet size for you non-DIN people), black and white. We sometimes had covers with colored paper, including "collector specials" with the different colors, but the print quality was basically photocopy, and we stapled most of the issues ourselves because that was cheaper.
Due to the extensive DTP processing, I'm able to present two gemstone collections from the past:
---
Maintained by Mikko Kurki-Suonio
Last updated 03-AUG-09
Back to SwOb.